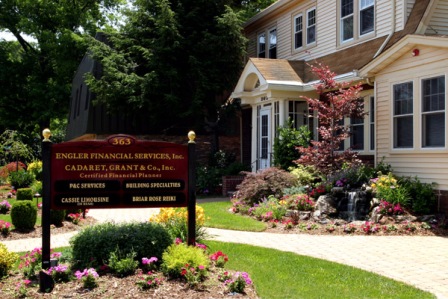 Welcome to the Engler Financial Services Web site. Our company believes that good financial decisions don't have to be confusing. We can provide simple, proven techniques that can help you make the most of your money and help achieve more of your financial goals.
This site will not only introduce you to our company philosophy and services, but it will also offer a wealth of educational materials, articles, newsletters, calculators, and other tools -- all designed to keep you up-to-date on financial issues, strategies, and trends. This educational material is updated frequently so check back often.
If you have any questions or want to schedule a complimentary meeting to discuss your specific questions, please call (973) 661-3100.
Securities offered through Cadaret, Grant & Co. Inc. Member FINRA/SIPC Engler Financial and Cadaret, Grant are seperate entities. We are licensed to conduct securities business in the following states: AZ, CA, CO, CT, DC, DE, FL, GA, IL, MA, MD, NC, NH, NJ, NV, NY, PA, TX, VA, VT
ETFs have some attractive features that set them apart from mutual funds, but there are also cost and risk factors to consider.

A 1035 exchange may allow a permanent life policy to be traded for a more suitable insurance product.

Fundamental factors that can affect the short- and longer-term performance of equity REITs, including taxation of REIT shares.

Discover why it might be worth waiting for a record of financial results before investing in an initial public offering.
Estimate the annual required distribution from your traditional IRA or former employer's retirement plan after you turn age 70½.

Calculate the rate of return you would have to receive from a taxable investment to realize an equivalent tax-exempt yield.

Determine whether you should consider refinancing your mortgage.

Estimate the future cost of an item based on today's prices and the rate of inflation you expect.