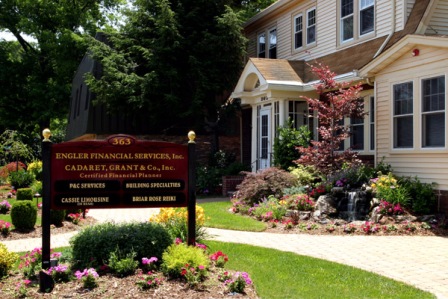 Welcome to the Engler Financial Services Web site. Our company believes that good financial decisions don't have to be confusing. We can provide simple, proven techniques that can help you make the most of your money and help achieve more of your financial goals.
This site will not only introduce you to our company philosophy and services, but it will also offer a wealth of educational materials, articles, newsletters, calculators, and other tools -- all designed to keep you up-to-date on financial issues, strategies, and trends. This educational material is updated frequently so check back often.
If you have any questions or want to schedule a complimentary meeting to discuss your specific questions, please call (973) 661-3100.
Securities offered through Cadaret, Grant & Co. Inc. Member FINRA/SIPC Engler Financial and Cadaret, Grant are seperate entities. We are licensed to conduct securities business in the following states: AZ, CA, CO, CT, DC, DE, FL, GA, ID, IL, MA, MD, NC, NJ, NY, OH, PA, SC, TX, VA
Probate can result in added expenses and delays when settling an estate. Read about four ways to avoid the probate process.

Steps to be better positioned for turbulent events such as inflation, roller-coaster markets, and global events — and hopefully emerge even stronger.

Caregiving can exact physical, emotional, and financial tolls, but in some cases, Medicaid may provide financial relief to family caregivers.

A discussion of the dynamics of the current job market — one that is quite possibly the most worker-friendly in many years.