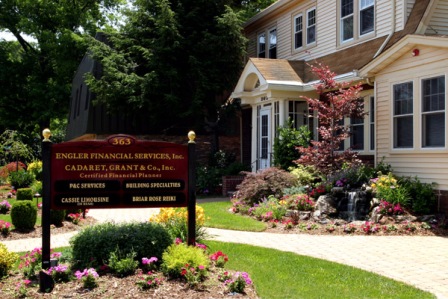 Welcome to the Engler Financial Services Web site. Our company believes that good financial decisions don't have to be confusing. We can provide simple, proven techniques that can help you make the most of your money and help achieve more of your financial goals.
This site will not only introduce you to our company philosophy and services, but it will also offer a wealth of educational materials, articles, newsletters, calculators, and other tools -- all designed to keep you up-to-date on financial issues, strategies, and trends. This educational material is updated frequently so check back often.
If you have any questions or want to schedule a complimentary meeting to discuss your specific questions, please call (973) 661-3100.
Securities offered through Cadaret, Grant & Co. Inc. Member FINRA/SIPC Engler Financial and Cadaret, Grant are seperate entities. We are licensed to conduct securities business in the following states: AZ, CA, CO, CT, DC, DE, FL, GA, ID, IL, MA, MD, NC, NJ, NY, OH, PA, SC, TX, VA
Do you understand how working in retirement can affect your Social Security benefits? Read this article to find out.

Telehealth skyrocketed during the COVID-19 pandemic and continues to be popular. This article looks at the potential benefits of virtual health care.

Do streaming services make you contemplate cutting the cord? Read about some features, benefits, and limitations to consider before doing so.

Dividend investing can be a dependable source of income for retirees and others. This article provides an overview.