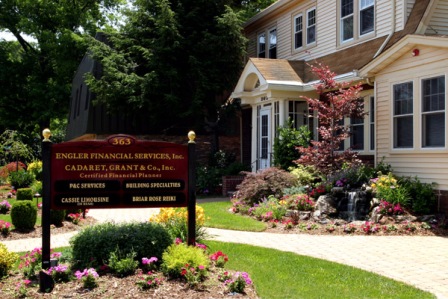 Welcome to the Engler Financial Services Web site. Our company believes that good financial decisions don't have to be confusing. We can provide simple, proven techniques that can help you make the most of your money and help achieve more of your financial goals.
This site will not only introduce you to our company philosophy and services, but it will also offer a wealth of educational materials, articles, newsletters, calculators, and other tools -- all designed to keep you up-to-date on financial issues, strategies, and trends. This educational material is updated frequently so check back often.
If you have any questions or want to schedule a complimentary meeting to discuss your specific questions, please call (973) 661-3100.
Securities offered through Cadaret, Grant & Co. Inc. Member FINRA/SIPC Engler Financial and Cadaret, Grant are seperate entities. We are licensed to conduct securities business in the following states: AZ, CA, CO, CT, DC, DE, FL, GA, ID, IL, MA, MD, NC, NJ, NY, OH, PA, SC, TX, VA
The financial ratios that help measure an organization's performance may also be used by potential lenders and investors. Learn more.

An employee stock ownership plan may be a tax-friendly way for retiring small-business owners to pass the reins to employees.

Low inflation may seem like good news, but it has a darker side. See which factors might be driving down inflation in the United States.

An inverted yield curve can be an economic indicator along with other factors that contribute to an uncertain outlook for future growth.
Estimate how much would remain after paying income taxes and penalties if you took an early distribution from a retirement plan.

How Long Will Your Funds Last?

How much life insurance would you need to produce a sufficient income stream for your family?

Compare the potential future value of tax-deferred investments to that of taxable investments.